NEW IN STORES
The Girl with the Dragon Tattoo /

87%

Hop /

26%

Letter Never Sent CC
The Muppets /

96%

The Sitter /

22%

Tinker Tailor Soldier Spy /

83%

The War Room CC /

95%
CC =
Criterion Collection
TRAILER ROUND-UP
"Chernobyl Diaries"
is the directorial debut from director Bradley Parker who has been working on visual effects for the feature films for the last 14 years. From the start it looked to be another found footage affair, but it quickly shed itself of that subgenre. What follows is nothing new. An isolated place, creepy children heard and seen, and then slowly "the others" start taking us. This comes from the makers of "Paranormal Activity," a series that three films in I still revere. It hits theaters sooner that I'd have thought on May 25th
Last May news broke out about the massive earthquake and tsunami that struck on the other side of the world. American documentarian Stu Levy was there for the disaster and captured the people striving to rebuild their homes, families, and lives.
"Pray for Japan"
is currently playing in select theaters.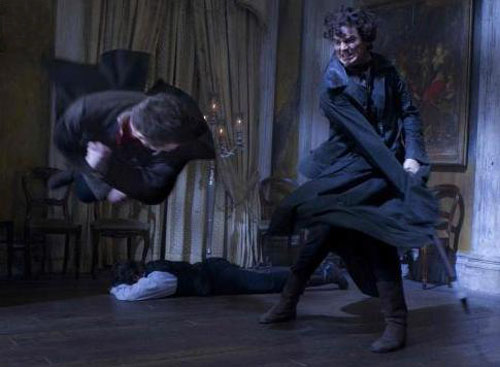 Here it is! The second trailer for
"Abraham Lincoln: Vampire Hunter."
While not all stylin' slo-mo like the first, this one also comes with self-narration to set the stage. We also see even more of the crazy action that we can expect top hats full of on June 22nd. I chuckled at a ridiculous scene of Abe and those long skinny legs flying through the air...
Kristen Stewart will never be "fairer" than Charlize Theron, but I suppose that is what suspension of disbelief is all about. From the producers of Tim Burton's "Alice in Wonderland" comes
"Snow White and the Huntsman"
in its first full-length trailer. It is a CGI-ridden visual splendor to be sure, but I cannot help but wonder if Walt is rolling in his grave. The brief glimpse of the dwarves was neat and I'm a sucker for all the magical creature cameos. Will this movie manage to bring us her heart on June 1st?
Strap them there suspenders sir, I reckon it's prime time for The Trailer Round-Up Awards.
Sick Cow:
Last Monday I covered Tim Burton's return to stop-motion (and dead dogs) with "Frankenweenie." I suspected we should see the trailer for his upcoming live-action film soon and here we are.
"Dark Shadows"
boasts the macabre German expressionistic production design that Burton's films have become known for, but there's where my compliments cease. Remember when Burton was an icon and influence for the creepy, bizarre, and fascinating? Remember when his films were actually funny and in such a unique way? You may want to just remember the likes of "Beetlejuice," "Edward Scissorhands," "Ed Wood," and "Big Fish,' and simply pass by this trailer and this film altogether. A cursed vampire (Johnny Depp) from the 18th Century is unburied during the '70s and has to adapt. There are some quaint gags near the start, but the longer this trailer ran the worse it got. Burton doesn't need to sink to sexual comedies and drug jokes, he's a legend. This film looks to be an unfortunate addition to his resume. Dark shadows indeed on May 11th.
Lasso of the Week:
This week also brought us the second trailer for Ridley Scott's anticipated
"Prometheus,"
which looks more like and "Alien" prequel than ever before. I don't know why they would have deny that it, because from the looks of things that's an incredibly good thing (for both films). This trailer takes its time to dish out some of the plot details before reaching an insane climax of images and sounds. Has CGI ever looked better? I was reminded of the best parts of sci-fi epics like "Star Wars," "Aliens," and "Sunshine." With Michael Fassbender leading a pack of proven actors it is hard to imagine how this can go wrong. Then again, it has been over a decade since Scott delivered a truly great film. I heard talk as early as last summer about how amazing some 3D scenes for "Promoetheus" were. IMAX 3D on June 8th. There are those of us who know we'll be there.
Here's a wicked awesome list courtesy of
The A.V. Club
,
"28 Stories That Makes the Audience Choose the Ending,"
not doubt spurred by the recently accoladed "Take Shelter." I'm a fan of ambiguous closings in stories. Many of these stories are films, which is why I've showcased it here. Some people don't like their narratives open-ended. They want their yarns all tied up (if you will). How about you?
"Top 10 Documentaries You Haven't Seen But Should."
I was surprised that the title of this list proved true for me, especially because I consider myself to have seen quite a few docs. I could make a list like this of my own sometime. In the meantime, you and I best get watching some of these.
What are your feelings on the recent 3D remixes that have been hitting theaters every other month? We've gotten a couple Disney classics, "Star Wars - Episode 1," and "Titanic" will be docking soon. Well, none have had me truly excited... until now. "Jurassic Park" 3D! I never saw this in theaters originally. I was five at the time. It would have rocked my world and defined me even more than it already did. I have seen it many times since and I dearly regard it as one of my favorite films ever made. I look forward to see T-rex and friends on the big screen come July 19th, 2013.
JoBlo
has
the story
.
THE BAD
Yet another "Teenage Mutant Ninja Turtles" film is slated for release next year. It is product of Michael Bay's studio in association with Nickelodeon. Bay himself informed us that there's going to be a twist in the TMNT lore, they are going to be
aliens
?! How does Teenage Alien Ninja Turtles sound? The abbreviation souns better, but that is where compliments cease. I am indifferent to the matter as I have almost no attachment to the franchise, but fanboys are angry about this so I feel their pain.
Stuff We Like
had
the story
first!
Look at this websnap of a recent top box office weekend. All rotten (according to
Rotten Tomatoes
)! Maybe the first few months of the year really are cursed...
They were really going to try to make "The Expendables 2" rated PG-13? Well, that didn't last long. Sylvester Stallone informs the world that it will in fact be "R." So it turns out Chuck Norrise
does
do R-rated films... Movie Web has
the flip-flop tale
.
* * *
MAYBE THE HILARIOUS