(Author's Note: It's a Monday night and I'm getting back in the swing of things with a new issue of "The Film Tome Report." I introduce a new segment and revisit old ones that have been tried 'n true. Thanks for reading. Enjoy the show!)
NEW IN THEATERS
21 Jump Street /

96%

Casa de Mi Padre /

0%

Detachment* /

75%

Free Men*
Jeff, Who Lives at Home* /

85%

The Kid with a Bike* /

91%

Natural Selection*
NEW IN STORES
The Adventure of Tintin /

74%

The Descendants /

89%

Happy Feet Two /

44%

My Week with Marilyn /

83%

The Three Muskateers /

26%
CC =
Criterion Collection
TRAILER ROUND-UP
Here is the
Kickstarter
page for
"Boy,"
the new film by Taika Waititi. While it showed at Sundance this year, this New Zealand film is seeking a wider distribution in the States. The confident director explains more in the video before we are treated to a preview. It's Jared Hess-esque (who is Wes Anderson-esque), namely quirk and artistry. It looks funny and bit inappropriate, but I have been hearing some rave things. We'll probably see it around sometime this year.
You may have seen the original
"Frankenweenie,"
a short film that put a Mr. Tim Burton on the map. That was a live-action, black and white movie. For his remake, Burton is keeping the black and white, but going to a realm he's visited before in "Corpse Bride" and "The Nightmare Before Christmas," stop-motion animation. I love this medium and Burton has proved to be one of its finest practitioners. After seeing this 2-minute trailer (which felt much longer) I really wondered how he was going to stretch this concept out for a feature. There may have been a good reason he originally did this as a short. That really doesn't matter because this film (hitting IMAX and in 3D no less) is going to make a half-billion dollars. The biggest surprise is that Johnny Depp is nowhere to be found! That, of course, is because Burton is also finishing up a live-action film with his favorite actor, "Dark Shadows." That is due later this year, we should expect a trailer soon. See the "Frankenweenie" on October 5th.
Here's the first
official
trailer for
"The Raid,"
an wall-to-action action flick from Indonesia. Last year it took home Lasso of the Week. While ultra-violent, the filmmaking involved demanded recognition. I was not about to deny it. Now it has shown an Sundance and the likes of SXSW and surely will be hitting digital shelves by the summertime, this time with the subtitle of "Redemption." This new trailer showcases the snappy visuals and snapping gunfire and fighting. Even without the red-band the trailer shows violence on a nearly unparalleled level. The film is not built on a plot, but rather a simple premise: An elite SWAT team aims to take down a crime lord who has control over a 30-story apartment complex. Their mission? take him down, one floor at a time. It's just an excuse to stage some ridiculous action scenes and will certainly draw that type of crowd. In select theaters later this month.
, I reckon it's prime time for The Trailer Round-Up Awards.
Sick Cow:
Where the heck did
"A Thousand Words"
come from? Seriously. This trailer was sleepily releases late last year. I remember seeing the not-so-compelling poster a few weeks ago and now the film is already out to rave reviews (raving about out bad it is mind you). Eddie Murphy has some of the best facial expressions ever, and he'll have to especially use them in this show's premise where, you guessed it, he only has a thousand words. The great Jim Carrey tried his hand at a couple of far-fetched comedies revolving around a tied tongue, "Liar Liar" and "Yes Man." I've seen bits from those, bits that left me never wanting to see more. This is kind of the same way. Love the tree though.
Lasso of the Week: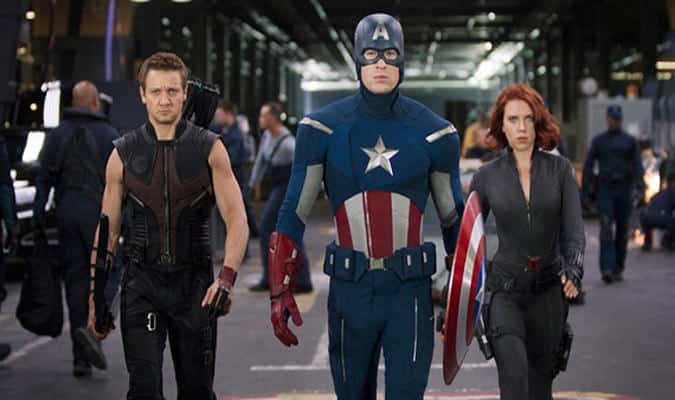 Trailer 2 for
"The Avengers"
hit the interwebs late last month and shook the Earth. After each of the iconic superheroes (except Hawkeye, but more on that in a sec) get some face-time we get shot after shot of spectacle and it looks fabulous. All we need to know is that the world is in jeapordy and these superstars are our only hope. The booming horn bass that "Inception"pioneered and "Transformers" copied and "Battleship" stole is also borrowed here. (Notice how my terms changed.) This is going to be the summer blockbuster we've been waiting for! Wait, what about "The Dark Knight Rises"? Oh-ho, that battle is going to be just as good as the ones onscreen! I particurly liked the shot of Hawkeye (played by Jeremy Renner, the guy's everywhere) shooting his bow while he falls. But then again, I just love archery. Joss Whedon has delivered. Avenge the superhero film on May 4th.
* * *
POSTER CHILD*
*Yes, yet another new segment to "The Film Tome Report." As the title suggests, this is a brief showcase and consideration of the latest posters to get caught in the interwebs. This will by no means be an extensive search for posters, but expect a few. (Don't forget to click to posters for an enlarged version folks!)
"Moonrise Kingdom." Us Wes Anderson fans (I'm happy to be part of that quirky collection) already got giddy over the trailer, but now we can continue our anticipatory drool over this gorgeous painting and the fanciful fountains of gold font. The nature scene is admirable, but we know these two young characters are going to be a handful. They might as start making the Criterion Collection cover now (as far as I know every Wes Anderson film has received that prestige treatment), though they might just want to stick with this one. May 25th.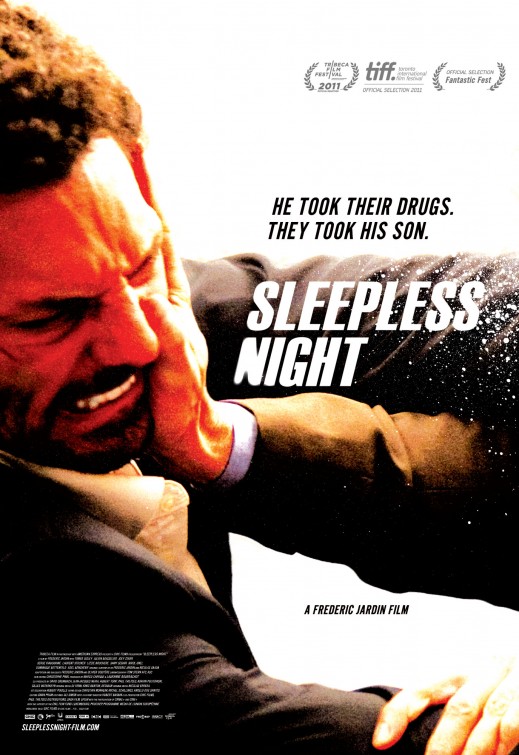 "Sleepless Night." I know nothing about this film and I think it will be a fun experiment to keep it that way. The two short sentence synopsis, mixed with the intense image sells this film well. Cocaine flies on the right, a desperate father's face is push on the right. That and a third of the poster is white space. If this was all I was basing my judgement on I'd buy a ticket.
Apparently Thursday was International Woman's Day... Cool. To celebrate Movies listed
"10 Must-See Titles to Inspire Girls With Film."
Again, cool. Nearly any Miyazki picture should be considered.
SXSW is going on this weekend in Austin, Texas.
Film School Rejects
select 16 films
to see from the group. While most of us don't have the opportunity to be there, these are some titles to definitely add to one's watchlist. They have
another list of 10 films
that they were impressed with at Sundance at are also showing at SXSW. As you might expect, there is some overlap in the lists.
CAST AWAY
Tom Cruise already has a musical coming out this year (the smut-filled "Rock of Ages") and is still in the talks to be in "A Star is Born" (opposite Beyonce?!) (Clint Eastwood's next project?!). I think I covered this same story last year... If this ever happens it won't be coming out 2012.
Total Film
has
the scoop
.
* * *
THE GOOD
Here's a beautiful and moving tribute to some of the films that did not get recognized by the Academy. Because everyone* is entitled to their opinion. Why the asterisk? (Well, let's face it, some people don't have an adequate knowledge of films and filmmaking for their opinion to hold much weight. Many-a-wise scholars, professors, theoreticians, and critics have taught me such over the years.) This video acknowledges some of my laments: "Hannah," "The Adventures of Tintin," and "Harry Potter" to name a few. "Drive" is clearly one of the most popular choices. It was one of the year's most remarkable films. What film(s) do you think got snubbed?
THE BAD
"John Carter" only pulled in $30 million over the weekend in the domestic box office. Considering it took 10X that to make, it may have a tough time making a profit (yet alone breaking even). Indiewire has dissected the issue in
"Anatomy of a Flop."
The state of Utah (woo-woo!) on the other hand benefitted greatly from the film. You see, it was shot here!
The Hollywood Reporter
has
the details
. (Note: This isn't also The Bad, but merely a side note.)
At first I was going to put this with The Good, but when I realized I didn't have anything for The Weird I thought I could make a case. Remember the trails of Disney's "The Lone Ranger," I covered the back and forth last year in the tome. Well, after some changes (because it was too expensive to start production, especially after the $300 million dollar beast that is "John Carter") it is green-lit and slowly coming to fruition. Here's the first image (above) featuring Johnnie Depp as Tonto and Armie Hammer as the masked savior of the wild West. Why Depp? That's why this is in The Weird. There are plenty of Natie American actors (good ones too). Director Gore Verbenski (who as worked with Depp on the "Pirate" movies and the Academy Award-winning "Rango") is why. In any case, I am excited for a big-budget Western. (Compare the photo of the iconic duo from the TV series below it.)
JoBlo
has
the story
of this first image.
OR THE COOL
As the above Oscar tribute showcased, "Drive" was one of the year's most beloved (underground) films. It quickly achieved cult classic among cinephiles. Might is be destined for the Criterion Collection someday? I would not be surprised. In the meantime, some talented fans create their covers for the wish/prophecy. Seem
'em all
at
Geek Tyrant
.
As if the "Drive" posters weren't cool enough, check out these for
"Reimagined Miyazaki Films."
As seen on
BuzzFeed
. To-to-ro, To-to-ro!
Appreciate this brief gallery from the late Ralph McQuarrie who painted
some stunning concept art
for the likes of "Star Wars" and "Battlestar Galactica" Courtesy of
GammaSquad
.
Wanna turn your YouTube into Academy Award winning material? There's an app for that! Well, at least a website for now. The aptly dubbed
"The Artistifier"
will give your videos a classic makeover.
* * *
MAYBE THE HILARIOUS
Here's something cute and funny, " Kids Reenact the Oscar Nominees." I thought "The Tree of Life" one was a hoot. Watch above, but go to the site for "Part 2."

Hollywood is about to get Bollywood. Last night Jimmy Kimmel released the 9-minute trailer for his ultimate movie, "Movie: The Movie." With an unprecedented amount of stars (from Chewy to Clooney) and hitting every genre imaginable, I wonder if there will be any movies ever made after this one. There are dozens of brilliant bits in here, but I have to say Christoph Waltz was my favorite.
Next Media Animation, the funniest source of news since The Onion (though in this case it is actually legit stories), speculates over last month's award show. This might be the first of theirs I've seen in English... I prefer the Chinese with English subtitles. Somehow it makes it much funnier.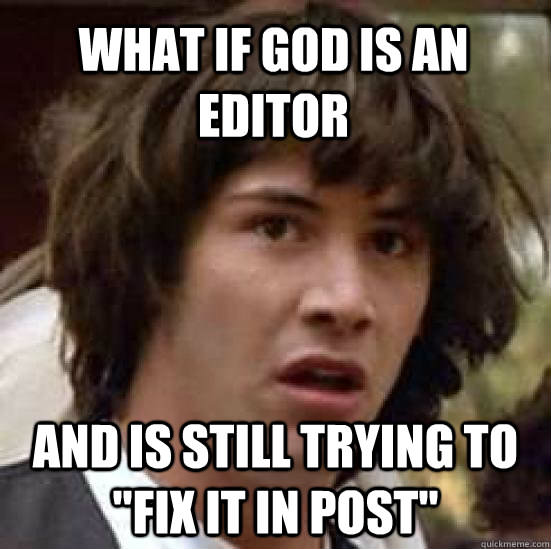 Check out this
selection
of filmmaking-related memes for your giggling purposes. I particularly like the Keannu ones.
IGN
's R.L. Shaffer (whom I'm guessing read "Goosebumps" as a kid) lists
"The Best Fanatasy Shows Streaming Instantly."
If you cannot wait for "The Hobbit" to get more magic, orcs, and dragons, seek these series out on Netflix. I for one will absolutely back-up his endorsement of Jim Henson's "The Storyteller."