(Author's Note: Dear readers, welcome to an immense issue of "The Film Tome Report." If this is your first time, dearest welcomes. I inform you of the latest films to hit theaters and stores, cover the newest trailers to hit the web, and serve a casserole of news, announcements, and other film-related material. If you like movies, I guarantee you'll like these reports OR your money back. It has been a couple of weeks since the last issue, but I'm back and ready to talk smack, well, talk film anyways. Onward & upward. Enjoy the special pre-Oscars issue with several stories and videos relating to this Sunday's big show. Also, look forward to my annual pre-Oscars post wherein I predict who will win and argue who should win.)
Act of Valor /

28%

The Fairy* /

100%

The Forgiveness of Blood* /

86%

Gone /

15%

Tomorrow, When the War Begins* /

63%

Tyler Perry's Good Deeds /

28%

Wanderlust /

58%
NEW IN STORES
Anatomy of a Murder CC /

100%

London Boulevard /

33%

Martha Marcy May Marlene /

90%

Puss in Boots /

83%

The Son of No One /

17%

Tower Heist /

68%

World on a Wire CC /

100%
CC = Criterion Collection
Tis the year for apocalypse. 2012 has been feared by some, mocked by most, and it is now among us. "Seeking a Friend for the End of the World" couldn't have found a better time to show up. Several films last year ran the gamut on this scenario (which deserves a blog post of its own), but it seems to be far from stale. But we haven't seen is a romantic comedy set on this stage, have we? The filmmakers saved themselves the hassle of showing us signs of the world's end by simply having it announced on the radio as Steve Carell's character listens. His wife runs away and he joins up with Kiera Knightly's character who joins him on a road trip to end all road trips, literally. Looks fun, but does anyone think these two won't be hooking up? This asteroid hits on June 22nd.
Dominique Abel and Fiono Gordon don't look like movie stars, but that isn't stopping them from making movies. Their latest effort in "The Fairy." It's whimsy and colorful, though selective in both regards. They are being compared to (Jacques) Tati and (Buster) Keaton, which are some bold comparisons. I thought of both the films of Wes Anderson (any) and the Coen Brothers (especially "Raising Arizona" and "The Big Lebowski"). More bold comparisons. This must be seen by those who see films. It lands in select theaters this weekend. Lucky people.
Tyler Perry has taken off the Madea costume (Thank heaven!) and put on a suit for "Good Deeds" (I'm not going to put his name in the title, I didn't even do that for Jet Li!). Apple is still labeling this a comedy, though it looks certainly more like a drama. A rich guy with a rich heart, Wesley Deeds takes it upon himself to help out a single mother. That petite and pretty powerhouse Thandie Newton plays the needy. What will Deed's fiance (Gabrielle Union) think of this? While Tyler Perry films have too much Tyler Perry (written, directed, produced, and starring him) it is good to see a more interesting and well-meaning movie from him. It hit theaters yesterday.
"Bully" is an upcoming documentary distrubuted by The Weinstein Company. It addresses the obvious problem affecting millions of school children across the world. If you went through grade school there's a good chance you were the victim of child abuse (from other children). My heart goes out to the parents seen here and it is hard to fathom a greater cause than this anti-bullying crusade. It will be in limited theaters later this year, though it should be in every movie house in this country and the next. Although it might have a hard time reaching its intended audience. Read why below in The Bad.
Before you can ask too many questions the trailer for "The Bourne Legacy" informs us that there was never just one. With Matt Damon gone Jeremy Renner is stepping up to bat and the stakes are pretty high. Is Universal beating a dead horse? After seeing this trailer I'd say, "No, they're riding a stallion off a volcano into a lake of blue sapphire!" What? I mean this looks pretty freakin' awesome! I love the sliding black bars of obscurity that keep us guessing and introduce the new and familiar to us. Edward Norton is among the new cast, David Strathairn and the others reprise their roles. August 3rd just got better.
Pixar has released the second trailer for "Brave" and completely redeemed anything they might have done wrong in recent years (i.e. "Cars 2"). While there's a moment of rather low-brow humor (unlike Pixar) most of this is rich and detailed storytelling we've come to expect from America's finest animation studio. The best part of this trailer is that it refuses to give us a sneak peak at the entire plot. Instead it sets up the inciting incident, introducing us to the Scottish princess who embodies the title, and leaves us with a boom. The second this trailer was over I Tweeted, "NOW THAT'S A TRAILER!" Don't just pencil in June 22nd, write it in ink.
Hitch yer horse here partner, I reckon it's prime time for the Trailer Round-Up Awards:
Lasso of the Week:
Last summer I read the script for
"Abraham Lincoln: Vampire Hunter"
among others. It was a very enjoyable historical fantasy
, but I had serious doubts it would ever see the light of day. Then last week, like a vampire coming into the sunlight, this trailer blew my socks off! I've ridiculed slow-motion before, but I've never cast it off completely for reasons like you'll see here. Chopping down a tree has never looked so ridiculously awesome! Benjamin Walker (who you don't know) is playing Honest Abe. Surprising because he is only 30. If only Daniel Day-Lewis could be playing this role too (he stars in the Spielberg biopic due later this year). You'll see fantastic snippets of action aplenty and felt top hats! Perhaps the best part is the Johnny Cash accompaniment. Remember the opening of "Dawn of the Dead"? If not, seek it out. This film is brought to us by Russian director Timur Bekmambetov who delivered the terribly cool "Night Watch" series. Drew
McWeeny over at HitFix Tweeted, "I
plan to raise my kids believing 'Abraham Lincoln: Vampire Hunter' is 100% historically accurate." Find out if you want to do the same on June 22nd.
"The Secret World of Arrietty," the lastest film from Japan's Studio Ghibli, is currently in theaters. Here is a Total Recall from
Rotten Tomatoes
,
"The Best of Studio Ghibli."
Only one film mustered a "Rotten," not alike a certain other renowned animation studio...
Check out this
informative infographic
made by IMDb regarding the Oscar-nominated films in which the winners are predicted based on user ratings.
Here is Rotten Tomatoes annual
"Best of the Best Pictures Nominees"
list.
Here is a short featurette on the making of "The Artist."
Netflix has signed a deal with the The Weinstein Company which will allow them to stream films such as "The Artist" before they are available on pay cable channels. For those who didn't drop their Netflix account after last year's fiasco, you will now be rewarded for your long-suffering. Well, except for Madonna's "W.E.," which is also part of the package.
The A.V. Club
has
the story
.
Well-known critic Richard Roeper
predicts the winners
in all 24 Oscar categories on his website.
Steve Carell (yes, Michael Scott himself) is on Twitter! Check out
his profile
. He has promised he won't be doing any "That's what she said!" jokes. Well, he lied.
THE BAD
Rotten Tomatoes
has a Total Recall of the
"Worst-Reviewed Best Picture Nominees"
ever. Unfortunately one from this year made the cut. There's probably a reason I haven't seen any of these besides "Extremely Loud & Incredibly Close."
Earlier this week Sacha Baron Cohen (known from "The Ali G Show," "Borat," and "Bruno," in each instance playing the title character) was "banned" from attending the Academy Awards. While not nominated specifically, he was an important part of the heavily-nominated "Hugo." The Academy did not want Cohen turning the classy awards show into an advertisement for his upcoming, "The Dictator." You see, he was planning on showing up in character.
The Hollywood Reporter
compiled a
brief slideshow
of his publicity stunts in the past. After the announcement Cohen released
a video
(enjoy the other Oscar-related video on that IMDb playlist), addressing the Academy. Then, yesterday, Cohen Tweeted
the above picture
. Apparently the Dictator is going to the Oscars. Hold on to your hats folks! In other news, today Steve Carrel Tweeted he is hitting the red carpet dressed as Sacha Baron Cohen.
"Bully" (trailer covered above) has been slapped with an R-rating. The MPAA dishing out an undesirable rating?! That's unheard of! Who better to fight them than Bob Weinstein (the film's distributor) who recently saw to it that "Blue Valentine" shed itself of the deadly NC-17 rating. He got that turned into an R, surely he can get this turned into a PG-13.
/Film
covers
this news
. An anti-bullying doc (assuming it is tasteful and helps its viewers more than it hurts) deserves to be seen by all, especially teenagers. Fellow blogger Scott Mendelson suggests they just bleep the bleepin' words in
a new blog post
.
Fifteen
real
Oscars are going to be auctioned online next Tuesday! The Academy isn't happy, but there is nothing they can do about it...
Slate
has
the full story
.
Believe it or not, "Star Wars - Episode 1: The Phantom Menance" will/has officially surpass "The Dark Knight" in the box office and reach that land where few films have ever gone before, a billion dollars. Re-releases can potentially change records now... Scott Mendelson covers the news
here
.
OR THE COOL
Here are
nine Oscar-themed hot dogs
(for each of the Best Picture nominations) for your visual enjoyment. Hopefully you know someone who can help make them a reality (if you like hot dogs that is). Which one would you like to eat?
Earlier this week Sam Mendes, the director for the upcoming James Bond film "Skyfall," posted
the first behind-the-scenes videoblog
(not unlike what Peter Jackson is doing on Facebook for "The Hobbit") for that anticipated action film.While I've only seen a few of the twenty-three Bond films, I am excited to see what Mendes (known for "American Beauty" and "Road to Perdition") bring to the series. This is certainly not his generic forte. Besides the video, the site is sparsely cool. There's a globe-tracker that tells us where Bond is now as they are wrapping up production as well as a counter until "Skyfall" falls upon us.
* * *
MAYBE THE HILARIOUS
How it Should Have Ended
has released an all-new animated short entitled, "Harry Potter and the Best Picture." It's embedded above or
available on YouTube
. Some of Rowling's most memorable characters express how upset they are that their film was snubbed in all the major categories. They take shots at all of the Best Picture nominees and continue to state their case. The "Harry Potter" series was a magical (ha!) phenomenon in film history, You can read my reviews of the last two films in the series here and here. We'll see if "The Deathly Hallows: Part 2" can at least take home the crafty awards it was nominated for.
Here are some recent and delectable mock news stories from
The Onion
(y'know "America's Finest News Source"): "Leaf from
'The Tree of Life' Frontrunner for Best Actor Oscar,"
"Meet the Man Inside the Nicolas Cage Costume,"
and
"Tyler Perry Expands His Fan Base with New Films About Sassy, Chinese Grandmother."
I do not know Maru the cat, do you? In any case here are her versions of some of this year's biggest films for your consideration
as seen on BuzzFeed
.
This
was in my Twitter feed, labeled as "the problem with movie posters." Know your meme.
"The Fantastic Flying Books of Mr. Morris Lessmore"
Directed by William Joyce and Brandon Oldenburg
After you watch this you will be able to say you've seen at least one of the Oscar-nominated shorts this year. "The Fantastic Flying Books of Mr. Morris Lessmore" is without dialogue, but full of words (literally). It is beautiful ode to the magic of literature set to a dramatic rendition of "Pop Goes the Weasel." This has to be a serious contender for the Academy Award tomorrow night.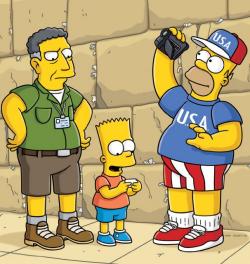 Last Sunday "The Simpsons" aired their 500th episode! Congratulations to Matt Groening, Fox, the cast, and all the writers and animators over the years. To celebrate,
Slate
has an
interactive global map
of all the places the family has been over the incredible 23-season run. In their 500th episode they will also be traveling ut of their Springfield stomping grounds.
Hunter Phillips has commenced an all-new blog,
(500) Days of Homer
, where he will view and then analyze an episode every day for the next year and a half! He embarked on this odyssey just this week with Season 1, so if you want to follow along (which is exactly what I am doing), it is not too late to start.