Beneath the Darkness* /

0%

The Devil Inside /

7%

Norwegian Wood* /

73%

Once Upon a Time in Anatolia* /

96%

Players*
Roadie* /

68%
NEW IN STORES
Contagion /

84%

Don't Be Afraid of the Dark /

59%

The Guard /

95%

I Don't Know How She Did It /

17%

Shark Night 3D /

15%
CC = Criterion Collection
"Ai Weiwei: Never Sorry"
is a doc about the controversial man who is an artist and activist in Beijing, China. He is an outspoken critic of the Chinese government. As would be expected, they don't smile upon this. It certainly looks humbly made and features many interviews of people explaining the tense situation he is in. I might be seeing this at Sundance this year, but after this lengthy trailer it almost feels like I already have.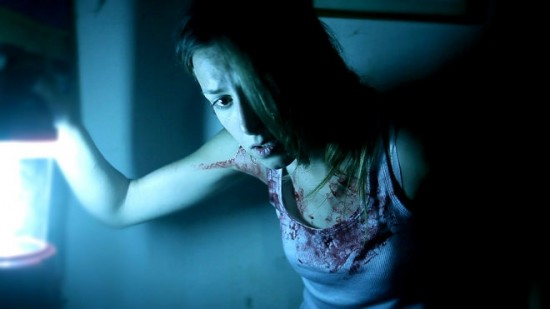 Here is the new trailer for
"Silent House"
that garnered some recognition at Sundance Film Festival last year. It is a horror film that is done in one single take making it an 88-minute shot/film. With the tag line "real fear in realtime" it is apparent that this gimmick plays a large role. Will there be no music to keep with the naturalistic endeavors? Gosh, I hope so. Elizabeth Olsen stars as our blonde in peril. Last year she recieved a lot of praise for playing the title role in "Marcy May Marlene." Following her for the entire film means her performance will largely determine its success. Being a total geek for long takes myself I must see it. Will you? The film will start showing in select movie houses on March 9th.
Further proof that "The Last Exorcism" was not... (That'll never get old, right?)
"The Devil Inside,"
which hit theaters this weekend, it about a girl who fears she will follow in her mother's footsteps and freak out one day. Her mother was possessed and killed three people and is currently in lockdown at a mental facility. There are some creepy images and sounds to be found here, but by far the best acting belongs to those playing the possessed. How many of these movies are we going to get? The film has reached single-digit territory on
Rotten Tomatoes
and people are raging about its ending. Again, I am reminded of "The Last Exorcism."
"ATM"
is the kind of film that makes you ask, "What will they think of next?" We've seen horror and thriller films where our protagonists are stuck in boats, phone booths, ski lifts, and even the open water, but now we've got a new place, hence the title. Essentially it is slightly bigger than a phone booth so that three knuckleheads can get stick inside. On the outside is a maniacal killer. That's your premise. Take it or leave it. This trailer makes it look like a pretty silly affair that's neither scary or impressive. This film comes to us from first time feature director, David Brooks. It'll be somewhere sometime this year.
Get up from yer porch, I reckon it's prime time for the Trailer Round-Up Awards:
Sick-Cow:
Poor, poor Dennis Quaid. The man dances with corpses and spouts lame one-liners in the trailer for
"Beneath the Darkness,"
another horror film that released this weekend and looks to be an affront to acting. Quaid is a respectable man in town who a group on teenagers must prove is actually a mad murderer while they try to avoid being his next kills. This film looks like a special kind of awful. Perhaps fit for mocking? This little star is currently dimmed to a 0% on
Rotten Tomatoes
.
What the Heifer?!:
Can't say I've seen anything like this before... What the hell is going on in
"Don't Go In the Woods"
? This musical/horror hybrid obviously did its casting based on musical talent rather than casting. Y'know, not everyone can do both. Also, not every movie can be a musical and a horror. It's not even all that over the top to suggest an entertaining time (a la "Tucker and Dale Vs. Evil"). It's just weird. Was this meant to be funny? Either way it loses points in my tome.
Lasso of the Week: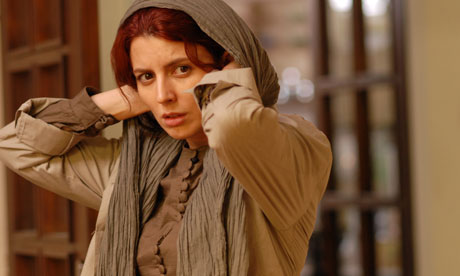 As we reached the end of 2011
"A Separation"
rose as one of the most critically acclaimed films of the year. Even Roger Ebert has listed it as his favorite film of the year. Apparently the country it comes from is proud of it too as it is Iran's official selection for the Academy Awards. The film follows an Iranian couple who are appealing for a divorce, not an easy feat in their country. As you will see in the trailer, things quickly get complicated. This looks like a heavy film that packs one dramatic punch after another. This trailer promises an emotional domestic tale with powerful performances. The film is currently showing in NY & LA.
ENLISTED
Rotten Tomatoes
has their 13th Annual Golden Tomatoes Awards for the highest rated films of 2011! The number 1 spot may surprise you... (Hint: It is also the highest grossing film of the year.)
Jessica Chastain (who played Mrs. O'Brien in "The Tree of Life" and three other roles last year) is said to have joined the cast for Kathryn Bigelow's upcoming film about the hunt for Osama Bin Laden. She's certainly getting a lot of work lately. Joel Edgerton and others are her co-stars. See
Deadline
for more details.
According to
The Hollywood Reporter
Elton John's number 1 choice for someone to play him in an upcoming biopic is Justin Timberlake, who has proven to be a fine actor indeed. In other news, if I were an old man I would want Brad Pitt to play me in a biopic.

The Golden Globes are a week from tomorrow and then the Oscars will follow on February 26th. The Academy Awards just released a trailer for the award ceremony wherein we are introduced to out host!
Netflix is my dear friend. I use Redbox every so often. How about you? Have you noticed that some titles are not available the same day they hit store shelves? Well, now Warner Bros. is doubling the delay (to 56 days!) for their films to hit such platforms as these when they can be found in stores. The reason is simple, they want more sales, not rentals.
The Hollywood Reporter
reports.
OR THE COOL
Remember Disney's "Tangled"? I know my niece does. Well, did they live happily ever after? Those who go see "Beauty in the Beast 3D" in theaters later this month will first see an all-new short film entitled, "Tangled Ever After."
/Film
has more on the story and a clip from the short.
* * *
MAYBE THE HILARIOUS
Remember that impressive trailer for "The Dark Knight Rises" a couple weeks back? Well, someone has taken the audio and re-cut a trailer for
"The Lion King Rises."
The thing is, this makes me now want to to see "The Lion King" more than "The Dark Knight."
* * *