(Author's Note: Happy New Year! Here's the issue that sees 2011 and raises it one 2012. I have gotten in the habit of posting issues during the last hours of the week. Let me get this one posted and then I can start looking how to improve them in the future in this and other ways. Here's to a new year and hopefully 52 new issues of The Film Tome Report. Thanks for reading, keep on watching.)
Angels Crest /

27%

Chico & Rita /

95%

El Sicario: Room 164* /

100%

The Iron Lady* /

57%

Pariah* /

98%

A Separation* /

100%
NEW IN STORES
Apollo 18 /

25%

Brighton Rock /

53%

Final Destination 5 /

60%
CC = Criterion Collection
Liam Neeson is becoming the ultimate man in his ripe old age.
"The Grey"
just might be the film that puts him in Chuck Norris territory, though he certainly kicked major arse already in the ridiculous "Taken." Neeson plays one of several men who survive a plane crash in Alaska. It becomes a survival story similar to the documentary "Stranded: I've Come From a Plane that Crashed in the Mountains." Besides the cold, their main adversary seems to be wolves ("Frozen" anyone?) The latest survival picture that comes to mind ("127 Hours") was my favorite film of its year. Ten bucks says Neeson emerges victorious at the end wearing wolf pelts, eating raw meat, and kicking butt all the way home. Naturally, I want to see that. January 27th.
"Tim and Eric's Billion Dollar Movie"
looks like an absolute mess and that appears to be what they were going for. Based on the "Tim and Eric Awesome Show, Great Job!" that aired on Cartoon Network's Adult Swim, this continues the sketch comedy routine. Lots of cameos here too. While it might not be the next "UHF," a classic in my eyes, I'm sure fans of the show (which I am just now learning about) will eat this up.
It's not like we need to learn cigarettes are harmful these days, but
"Addiction Incorporated"
gives us another look at the scoundrels of Big Tobacco and how one of their employees set out to prove nicotine was an addictive substance. Stop blowing smoke, it is time to blow some whistles! This doc is currently playing in New York and will is said to play "everywhere" in February. We'll see about that.
Here is
"King of Devil's Island."
This winner of the Norwegian Academy Awards tells the true story of a young man, accused of murder, who was sent to a reform school (prison) located on an island. After cruel treatment from the school's director (played by Stellan Skarsgard), it is only a matter of time until he reaches a braking point. This bleak film comes to us from a nation that suffered greatly last year and it looks pretty great.
Quit spittin' in that there spittoon, I reckon it's prime time for the Trailer Round-Up Awards:
Sick-Cow:
My girlfriend lamented as we began to watch the trailer for
"Wanderlust."
She wondered why oh why Jennifer Aniston (who was recently named the sexiest woman of all-time by some magazine, though I have no idea how you could make such a claim) continually gets attached to crappy movies. I did not have an answer for her. We watched the trailer for "Wanderlust" and agreed it looked to be yet another disaster. Aniston and Paul Rudd play a couple who leaves the big city (after he is let go) only to stumble upon a bunch of hippies where they reevaluate their lives. It is the kind of trailer that makes you reevaluate what movies you choose to see.
The Head-Scratcher:
When I first heard about the musical
"Rock of Ages"
and who was involved, I was pretty excited. Seeing the trailer took away any high expectations. Here is a sleazy show based on what I can only guess was based on a sleazy Broadway show. It is fun to see Paul Giamatti, Tom Cruise, Catherine Zeta-Jones, and Alec Baldwin acting in some of these roles, but I can't see any redeeming factors here. "Rock of Ages" ain't for all ages and hits theaters this summer on June 1st. Why don't you tell me how it is.
Lasso of the Week:
"In Darkness"
is an exquisitely lit and shot depiction of the true story of a Polish man who aids a family of fleeing Jews by hiding them in the sewer. Anytime I am reminded of "Schindler's List" and "The Pianist" (and even the opening scene of Tarantino's "Inglourious Basterds") it is a great thing. This comes to us from Polish director Agnieszka Holland ("Europa Europa") and is the country's official selection for the upcoming 84th Academy Awards. It opens in NY and LA in February.
Looking back on 2011:
I have featured some of Rotten Tomatoes "Five Favorite Films" segment in the past wherein ask celebrities to reveal their favorite films of all-time. They look back at how the segment went this year
here
.
The Hollywood Reporter lists the top Redbox rentals of the year. As JoBlo commented, this "proves Redbox users have poor taste in movies."
Borys Kit of
Heat Vision
, the movie blog for
The Hollywood Reporter
, shares his
"Top 10 Movies of 2011."
His is a number one we are seeing a lot.
Mike Sampson of
JoBlo
list his
best
and
worst
films of the year. I see that we have some overlap on each of those.
Collider
lists their
"Top 10 Films of 2011"
including a number that I've yet to see on other lists (i.e. "Hobo with a Shotgun" and "Horrible Bosses").
Looking forward to 2012:
Rotten Tomatoes lists
"2012's 12 Highly Anticipated Movies."
More sequels, prequels and superhero movies. Interestingly enough, only one film could be considered an original IP, "Prometheus," but even that is heavily tied to Ridley Scott's previous film, "Alien."
Remember the awesome trailer for "The Dark Knight Rises"? But remember how Bane's audio was indiscernible? Well, the final film might be that way too. Director Christopher Nolan plans to only alter the sound a bit. The Hollywood Reporter reports. Does this mean there's going to be a lot of people whispering to their friend, "What did he just say?" and a lot of shrugs in response? Gosh, I hope not.
OR THE COOL
Steven Spielberg, still the biggest household director's name, had two films come out last month. Both of which I plan to waste no time seeing when I get back to the states. Check out this bust of the man, a sculpture by Hubert Barichievy. Also, here is an
assessment
of the man and his career thus far.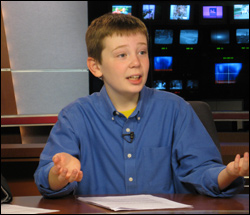 Remember Jackson Murphy, the child critic? Well, now he has his own webseries dubbed "The Critics" where he sits between Amy Biancolli and Jim Dixon (two adult critics) in an empty theater and they talk film. Here is their first episode,
"Sequels, Prequels and Finales."
First impressions: Get a new cameraman. Please! Just a still camera on a tripod would do fine for a show like this. If you can get past that, you just might enjoy the cinematic chit-chat. Jackson has already posted seven parts where the trio discusses a number of topics and looks back on the films of 2011.
A great Christmas present at the close of the year for Western fans was word that AMC's "Hell on Wheels" got
renewed for another season
. Yeehaw!