NEW IN THEATERS
See the Christmas colors!
The Adventures of Tin Tin /

74%

Albert Nobbs* /

42%

Extremely Loud and Incredibly Close /

52%

The Girl with the Dragon Tattoo /

85%

Mission: Impossible Ghost Protocol /

93%

War Horse /

75%

We Bought a Zoo /

61%
NEW IN STORES
Colombiana /

28%

Dolphin Tale /

83%

Midnight in Paris /

93%

The Tempest /

30%

Warrior /

83%
CC = Criterion Collection
(Author's Note: Folks, this just might be the biggest week in movie trailers... ever. Three huge trailer debuts hit the web since last I reported, including some other big titles. I will be covering them all, including some other recent ones I've yet to cover.)
The much anticipated trailer for "The Dark Knight Rises" hit the World Wide Web this Monday and it does not disappoint. Take the star-studded cast from the first films and add in Anne Hathaway (infamously cast as Catwoman), Tom Hardy (playing the villain, Bane), Joseph Gordon-Levitt, and the always lovely Marion Cotillard. Besides that big reason to be interested, Christopher Nolan and team have crafted one set piece after another for this final epic to all go down in. "The Dark Knight": was pretty spectacular and the late Heath Ledger's zeitgeist of a performance will never be forgotten. Will this measure up? For me it certainly seems to be a series of improving returns. I just hope Bane comes with subtitles. On July 20th, 2012 the dark knight rises.
"The Iron Lady" looks to be this year's "The King's Speech," without all the stuttering of course. The incomparable Meryl Streep plays Margaret Thatcher, the UK's first (and thus far, only) female prime minister in this biopic set prior to the Falklands War. It is a slice of history and a look at a figure that I personally am not too familiar with. An education in those areas is only second to me wanting to see this because it looks quite good. This film snuck up on us (well, at least me) and is currently in theaters.
"In the Land of Blood and Honey" is directed by Angelina Jolie (yes, that Angelina Jolie) and is already a nominee for Best Foreign Language Film at the Golden Globes, though I know what host Ricky Gervais would likely say to that, some ploy for the Hollywood Foreign Press to hang out with Jolie and Pitt! We'll see what he really says... All that aside, this looks very good and very intense. For all its effective period-ness (depicting the Bosnian War) it does appear to be a very small film with a big enough budget. Also, it is undoubtedly a mature experience to sit through. The film is currently playing to mixed reviews.
"Wrath of the Titans" is a sequel to last year's "Clash of the Titans," which I was/am a big fan of. It is amazing what can happen when you go into a film with low expectations. Unfortunately, 3D likely ruined that film for a lot of people. I saw it in glorious 2D twice and liked it both times and feel it is superior than the awful original, which ought to be edited down to only the Harryhausen sequences... But damn that mechanical owl! Anyways, this sequel (so much for the "happy" ending presented in the first film, speaking of which, Io seems nowhere to be found in this one) looks to be a riot. Hades (Ralph Finnes) and Zeus (Liam Neeson) are at odds again and so a half-mortal/half-god, Perseus (Sam Worthington), has to solve their problems. This time around it is titans. There looks to be quite the starting line-up of leviathans here. It is "TrollHunter" with Perseus! The CGI-romp set to "Sweet Dreams" covered by Marilyn Manson lets us know this is going to be one helluva ride (quite literally as Perseus must venture into the underworld to save his father, Zeus). Let us also hope for another one liner like "Release the kracken!" from the first film. "Feel the wrath" on March 30th, 2012.
Sacha Baron Cohen, who you can currently see and love his latest character in "Hugo," brings us "The Dictator." The trailer tells us this from the makers of "Borat," which was a very funny film. For some reason they didn't mention "Bruno"... Cohen plays the title character who has oppressed a country and wants to do everything to ensure it stays that way. He visits America in the trailer (a la "Borat"). I laughed a few times, but groaned just as much. It is hard to like a comedy that goes over the top and tries too hard. There was another/filmmaker who made a movie of similar nature back in the day. It was less raunchy and more funny (judging from what I've seen of both of them). That fellow felt he could call his movie "great." Perhaps Cohen does not. Get your foreign friends together on May 11th.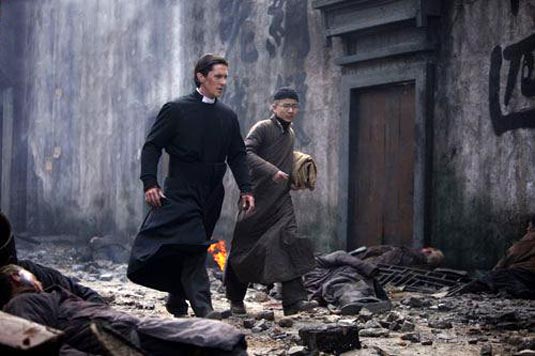 There are some truths in cinema. One well known to me (and millions of others) is that Zhang Yimou and team make beautiful films. His latest, which is actually China's official selection for the upcoming 84th Academy Awards, "The Flowers of War" is no exception. Christian Bale plays an American in Nanjing during the infamous Japanese invasion who goes undercover as a priest and thus saves a gaggle of prostitutes in the process. Naturally, he falls in love with one of them. Stunning visuals (especially that shot in front of the church's stain glass window) are a selling point, but won't save this film on their own. The film is currently getting mixed reviews and some occurrences off the screen (more on that in The Bad below) aren't doing it any favors.
Ridley Scott, who has had a string of polarizing films lately, looks the re-capture the magic that put him on the map in the first place back in 1979 with "Alien." After you see the brief 1-minute trailer for "Prometheus" I think you will agree that he is well on his way to do that. This movie looks pretty remarkable. It is as if Scott has pushed his CGI artists to the limit creating these state-of-the-art effects. It was first said to be a prequel to "Alien" and then it seems they went away from that. Now we just know it is based in the same "universe," but won't have any Aliens. Some 30 years later Scott is capturing the atmosphere of a space thriller, which was the highlight of "Alien." Besides that, a cast with the likes of Charlize Theron, Michael Fassbender, and Guy Pearce a reason alone to be interested. June 8th, 2012 cannot come soon enough.
Time to put down that whiskey bottle, I reckon it's prime time for the Trailer Round-Up Awards:
The Head-Scratcher: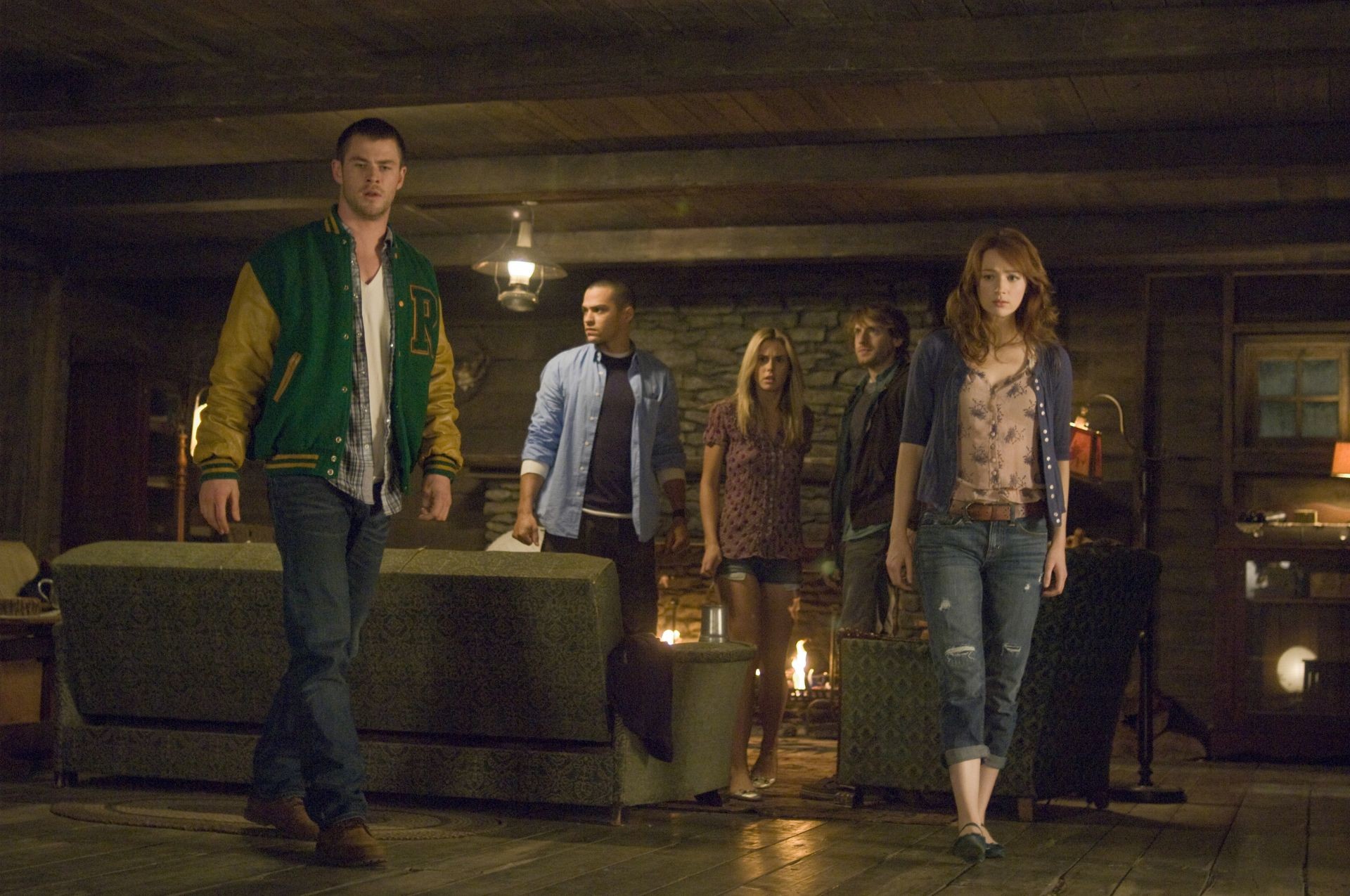 You might think you know what is going to happen in "The Cabin in the Woods" as the trailer begins, a group of friends pack into a car and go on a camping trip into the woods where they stay in cabin... but the unpredictable starts to turns things on their head. Title cards even taunt us by telling us we haven't an actual idea what this is all about. After the end of the trailer, I agree. Strangely enough (or maybe not), that really makes me want to see this. This comes to us from the writer of "Cloverfield," which I thought was brilliant from conception. While "The Cabin in the Woods" does not have near that viral power that movie did, it still can hook fans of thrillers. Joss Whedon attached as producer won't hurt there.

Let's hope that it delivers as "

a mind blowing horror film that turns the genre inside out." We will know on April 13th, 2012.
Lasso of the Week:
Sure, it was an exciting week for trailers, but is it any surprise which one is taking the top spot this week (or any week that it chose to surface). "The Hobbit" will be here in less than a year and is already looking bloody magnificent. Peter Jackson and team have recaptured the quirky charms of Middle Earths denizens and the epic scale of that mystical realm that made "The Lord of the Rings" trilogy among the most remarkable films ever produced. Yes, they could have shown us pretty much anything and myself (and a billion other fan boys and girls) would be instantly foaming in the mouth, but what they have shown us is pretty spectacular. "The Hobbit" is my very favorite book and so I adore seeing the pages finally being brought to live-action life. I will not dismiss the jovial animated musical that has been in my personal film library for years. The dwarves at Bag End all looks particularly well done. We are briefly introduced to the whole entourage of characters (and you thought the fellowship was big!), man, ain't that Thorin Oakenshiled one bad-A dwarf? I love the somber lullaby he begins and the other dwarves fall in. It is a song of Lonely Mountain, where there destination lies... It is going to be dangerous for Mr. Bilbo Baggins and company. I know. On December 14th, 2012, we all have an expected journey.
ENLISTED
Proving that Cracked doesn't take a break, even during the holidays, "6 Horrifying Implications of Classic Christmas Movies."
IGN celebrates their favorite Christmas movies. They say their "top 15 list will shoot your eye out." You best get that.
And here is another batch of lists honoring the best (and worst) of the year:
Here is "Col Needham's Best of 2011," a top ten films of 2011 list from the CEO and founder of the number 1 movie website the world over, IMDb. Besides Needman's footprint on the timeline of film research, I found his list pretty unique. You?
Scott Feinberg of The Hollywood Reporter has shared his top ten, which only further makes me want to see Spielberg's adaptation of "War Horse."
Fellow blogger, Scott Mendleson has shared lists of the years most overrated and underrated. There is certainly a choice on one of those lists (or the other) to piss off every film buff.
As if the trailer wasn't a big enough Christmas present, the fifth production diary for "The Hobbit," which will be here in less than a year (the first part at least), has been posted on the film's Facebook page.Looks like the rafts got a modern update eh. Heh.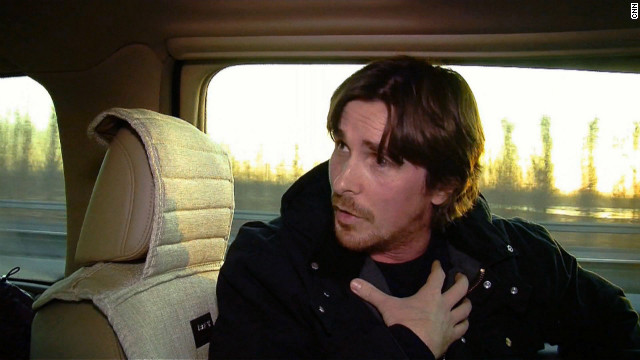 CNN asks "Has China ruined its Oscar chances with criticism of Bale?" As I mentioned above, Zhang Yimou's latest film, "The Flowers of War" is China's official selection for the Academy Awards, but when that film's Western star started stirring agitation in theorient the Chinese government commented on the star's actions. Read the article for more information. I like to think the Oscar goes to the best film, regardless of what happens off the screen, but I think we both know that is not always the case.
Baz Luhrmann (director of "Romeo + Juliet" and "Moulin Rouge!) probably wasn't smiling like this when he hit his head on set whilst filming "The Great Gatsby" with Leonardo DiCaprio. He had to get stitches and they called it a day and actually called it a year for the holidays. That film is due out a year from today along with Quentin Tarantino's new film, also with DiCaprio. The Hollywood Reporter reports.
OR THE COOL